Blog
This blog page includes posts by Anne Thomas at Berlin by Food about food-related topics and other subjects, such as film, literature and politics, as well as articles that she has written for other platforms. It also features guest contributions from around the world. The posts are all in English.
---
Woman, Life, Freedom at the Berlinale
March 8th, 2023
This blog post originally was supposed to be about food at the Berlinale. I speculated that some of the new places that have opened up in the past year would transport me to food heaven, in the same way that the pre-and-post-film places I frequent in Bologna (see my Berlin is not ...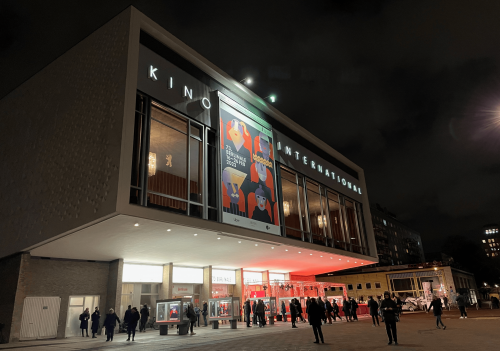 ---
Make syrniki not war: Eat for Ukraine
April 13th, 2022
When I wrote my first blog post for Berlin by Food two years ago, I quoted the Italian writer Francesca Melandri: "When all of this is over, the world won't be the same." She was talking about the coronavirus pandemic, and she was right. Yet the pandemic pales in comparison to the wa...
---
How not to go hungry at the Berlinale
February 9th, 2022
February offers us Valentine's Day, International Carrot Cake Day and Berlin's film festival. My blood is already racing. But unfortunately, I won't be there this year since I am still shielding in Wales, but I haven't forgotten the starry nights at the Berlinale. After all, the festival is one of the bi...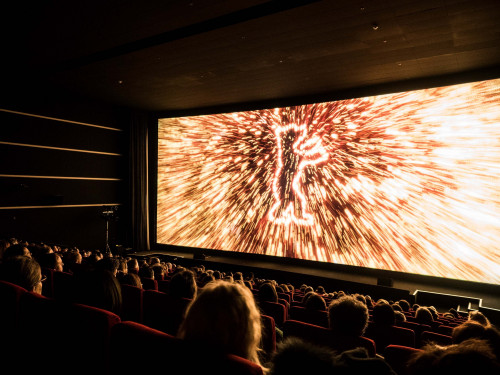 © David Seiffert / Berlinale
---
Distilling the taste of sunshine in Wales
August 16th, 2021
Welsh cuisine is not all about leek and lamb. We have bara brith, teisen lap, and laverbread, a slimy seaweed snack that has yet to take the world by storm but shares certain elements of sushi. While shielding, I have tasted my way through these delights and have also started making them ...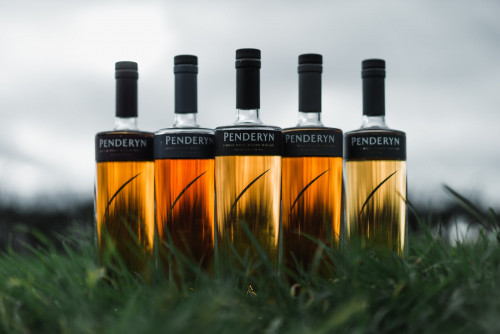 ---
Spring eggstravaganza
April 26th, 2021
Trigger warning: This eggcentric post is written in Egglish. It's not difficult to pick up and you'll surely hatch on fast, but be forewarned if puns and bad yolks make you run a mile like the smell of a rotten egg. Why do the French only put one egg in an om...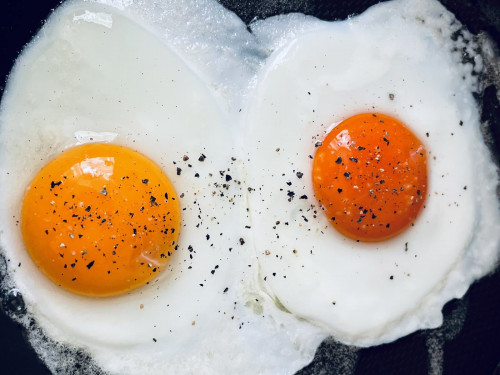 ---
The bells are ringing, it's Pancake Day!
February 16th, 2021
Mix a pancake, Stir a pancake, Pop it in the pan; Fry the pancake, Toss the pancake, Catch it if you can Christina Rossetti Happy Pancake Day! Britain's unofficial national day is one that I am happy to observe religiously each year. There's no reason not to. After all, this day ...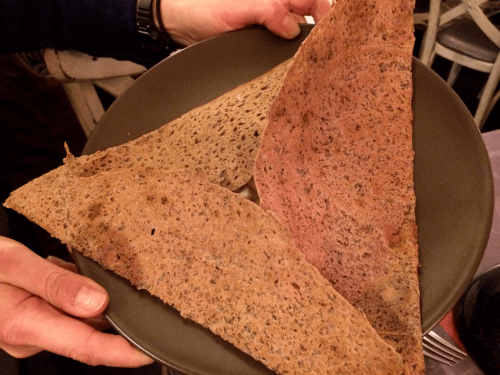 ---
In search of the lost feasts of childhood
December 29th, 2020
"For her, as for me, the past had a sweet taste." I made faux gras. Never again! Why bother is what I first thought when I saw the recipe. I've never been a fan of ersatz (perhaps under the influence of my maternal grandmother who lived through the Nazi occupation of France...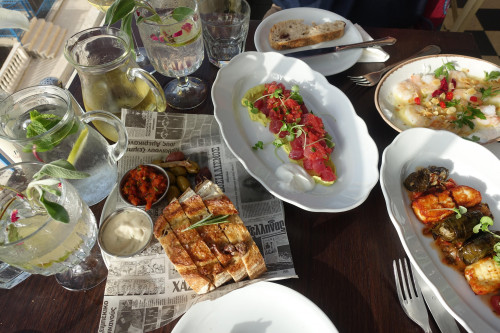 ---
Berlin is not Bologna but...
July 1st, 2020
"Bologna! Bologna! Near the Porta S. Vitale there's a bar called the Bocca d'Oro where they serve, if you insist on the one by the capo's mother, the best limoncello you've ever tasted. It promises everything." John Berger "You'll see," my film studies friends told me. "Bologna...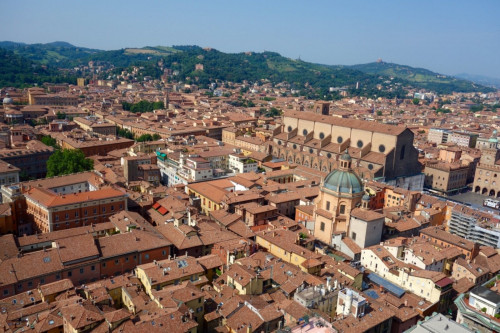 ---
"Anyone can be a refugee": Resisting racism in Neukölln
June 20th, 2020
Today is World Refugee Day. It is also the day that US President Donald Trump is holding his first major rally since the outbreak of COVID-19. Unlikely to mention refugees, he will instead pander to the basest instincts of his supporters, stirring up hatred and inciting to violence, as he has always ...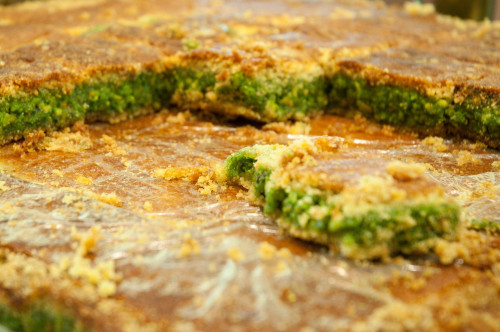 © Lara Merrington
---
Guest blog by Allison Williams: The logistics of cooking in a double-lockdown
May 11th, 2020
Lasagne is the answer, but the question was complicated. What is the best way to feed four people for a fortnight, with two self-isolating, without anyone leaving the house? It arose just over two weeks ago when my dad had an emergency trip to hospital, a trauma for all far beyond his ...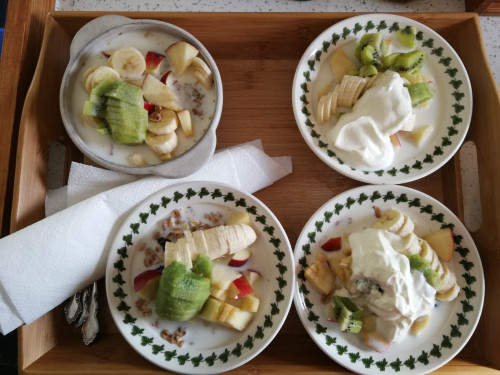 ---
Keep calm, love, and have a cuppa!
May 1st, 2020
I've run out of Brexit Kimchi and it's raining for the first time in weeks. Of course it is - I've decided to write about Britain. After all, it was raining three months ago when Britain was officially on its own again, having freed itself from the clutches of the European Union. ...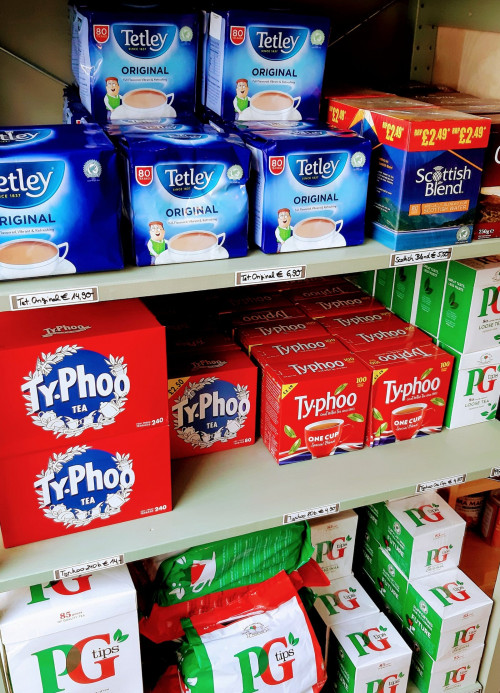 ---
L'chaim! Remembering while eating
April 21st, 2020
"A summary of every Jewish holiday: They tried to kill us, we won, let's eat!" said Alan King. This post provides a selective tour of Jewish eateries in Berlin, as well as an insight into the books, podcasts and shows that have been providing me with spiritual nourishment this past ...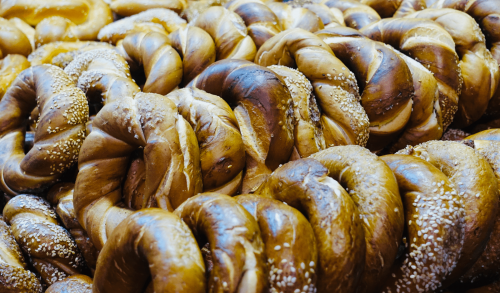 ---
Yes we can! Keeping Berlin's small businesses alive
April 14th, 2020
When Berlin started taking COVID-19 seriously just over a month ago, cafe and restaurant owners were faced with the difficult dilemma of what to do. If they shut down, their livelihoods would be on the line. If they stayed open, they would be putting themselves and their customers at risk. A terrible ...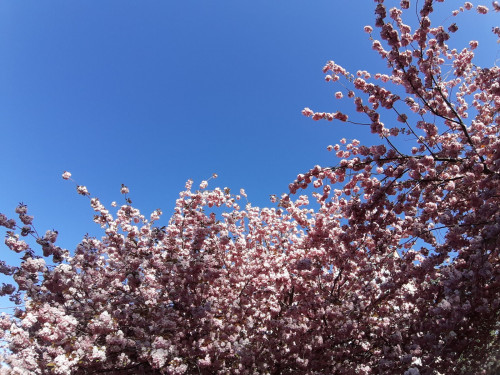 ---
Guest blog by Jane Paulick: Sourdough and San Pellegrino
April 7th, 2020
Food is what's giving my days structure. Nothing fancy. But when every day is like Sunday, breakfast, lunch and dinner pin down the time, stop it floating away. I read recipe books in bed at night, with the skylight tilted open to let in cold winter air that's unusually crisp and ...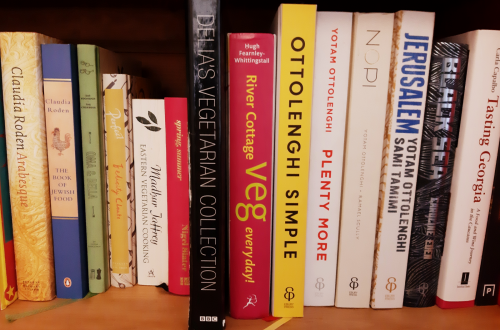 © Anne Thomas
---
Summertime, snow and shemomedjamo
March 30th, 2020
The clocks went forward on Sunday, to summertime. This summer is when I am supposed to launch my food tours in earnest. But now coronavirus has happened. Who knows what the world will be looking like this summer? Who knows whether restaurants and cafés will be allowed to open? Who knows w...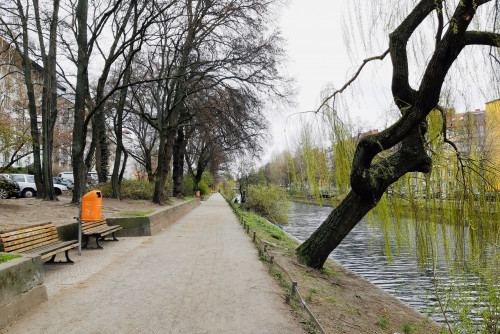 ---
Jewish cuisine in Berlin
September 10th, 2015
One of the three themes at this year's Jewish Film Festival in Berlin - alongside 50 years of German-Israeli relations and the 70th anniversary of the end of World War Two - was "Jews and Food". The Holocaust and food might seem unlikely bedfellows at first glance but, as the event made clear ...
---